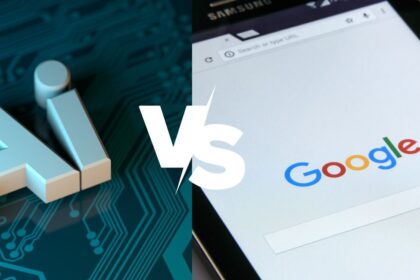 Google announced it accepts AI-Generated Content in a recent Google Search Central Blog Post. In the following article, we will discuss how Google views the way AI-generated content is made and how AI can be used in order to generate reliable and helpful content.
Google is rewarding high-quality content, however it is produced
The objective of Google's algorithmic ranking systems is to identify and honor distinctive, high-quality information that demonstrates what it refers to as E-E-A-T: expertise, experience, authoritativeness, and trustworthiness.
The fact that Google prioritizes content quality over content production is a wise strategy that has helped it deliver dependable, high-quality results to users for many years.
Google has always made a point of rewarding high-quality content. It still persists today as seen by Google's useful content system and information-discovering rating systems. The helpful content method was introduced last year to better ensure that those looking for content receive content that is developed primarily for people rather than for search ranking objectives.
How can AI provide helpful content
The ability to swiftly and effectively produce high-quality content is one of Chat GPT's primary benefits when it comes to content creation. This can be very helpful for SEO because it enables you to quickly create a lot of optimized content.
Here, it's important to remember that the program provides the requested level of quality. Namely, Chat GPT will provide high-quality material if you know how to ask for it. Knowing how to ask the right questions is the key.
Google has dealt with attempts to manipulate search results via automation for a very long time. No matter how spam is created, Google will keep up its efforts to combat it, including using its SpamBrain technology.
Despite this, it's crucial to understand that not all automation, including AI generation, results in spam. Automation has long been used to provide helpful material, such as sports scores, weather predictions, and transcripts. AI has the potential to inspire new forms of expression and creativity and to be a vital tool for people who want to make outstanding web content.
The goal of Google's algorithm is to identify and penalize websites that employ spamming techniques like keyword stuffing and duplicate content. The system might potentially be able to identify content produced by artificial intelligence (AI) and penalize websites that employ it.
This is why human involvement is more than vital whenever generating a text by using Chat GPT or any other similar software.
What does Google advise users who consider AI-Generation
As discussed in the beginning of this article, Google's ranking algorithms are designed to reward original, high-quality content that have the E-E-A-T characteristics: expertise, experience, authoritativeness, and trustworthiness.
In order to accomplish those characteristics, you must follow the following steps:
You can determine if the content you're producing is reliable and helpful by comparing it to these criteria. In addition to asking yourself these questions, you might think about getting an unbiased opinion from someone you trust who is not connected to your website.
Analyze any drops you may have experienced as well. What pages and kinds of searches were the most affected? Take a hard look at these to see how they stack up against some of the issues raised above.
Focus on people-first content
People-first content is written with the end user in mind, not with the purpose of influencing search engine results. How can you tell if you're producing material that puts people first? If you said yes to the following inquiries, your people-first strategy is undoubtedly on the right track:
do you have a target market for your company or website that would be interested in the material if they visited you directly?
does your writing show first-hand experience and depth of understanding (for instance, experience gained from actually using a product or service or going somewhere)?
do you have a main goal or emphasis for your website?
will a reader believe they have learned enough about a subject after reading your content to aid in achieving their goal?
will someone who reads your content leave it feeling satisfied?
Don't make material that is optimized for search engines
To succeed with Google Search, it is advised to concentrate on developing content that is written for people first rather than information that was written primarily with search engine rankings in mind. If you answered "yes" to any of the following queries, you should rethink your approach to content creation:
is the content primarily meant to attract visits from search engines?
are you creating a ton of content on a variety of subjects in the hopes that some of it would do well in search engine results?
do you use a lot of automation to create content across a variety of topics?
are you blogging about topics merely because they appear to be trendy rather than because you would otherwise write about them for your current audience?
do readers who read your content feel like they need to recheck their sources for more accurate information?
did you choose to write on a specialized subject for which you had no knowledge primarily in the hope of attracting search traffic?
What about SEO and how does it work?
You can improve your website's performance on search engines like Google, Bing, and Yahoo by using SEO services. Your target audience will find you more easily when they search for keywords related to your business when your website is optimized since it will be easier for search engines to scan and index your site.
A properly optimized website can also aid in building credibility and trust with your target audience. Users can tell that your website is relevant and reliable if search engines rank it higher. As consumers are more inclined to click through to your site when they see it as a reliable source of information, this can assist increase conversions and purchases.
To conclude, with this statement, Google has added a new site-wide signal to the long number of indicators it considers when determining how to rank web pages. Google computers automatically identify content that seems to have minimal value, little added value, or is just not particularly beneficial to people conducting searches. Nevertheless, AI and Google can work very well together if certain criteria, like the ones discussed in this article, are met.