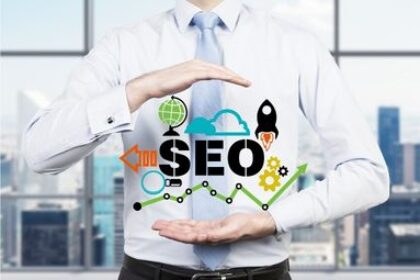 Search Engine Optimization is a powerful tool for marketers to use in their business. It provides them with the ability to rank their website for specific keywords and phrases that are relevant to their business.
You should create a website for the benefit of your users, and any optimization should be focused on improving the user experience. One of those users is a search engine, which aids in the discovery of your material by other users. SEO is all about assisting search engines in comprehending and presenting the information.
In this article, we show you how to improve your site's ranking using SEO.
1.Boost the speed of your website's loading
First and importantly, if your page load time is excessively slow, Google will notice and penalize you. According to Neil Patel's research, sites that rank at the top of Google's first-page load much faster than those that rank near the bottom. For several reasons, the speed with which your website loads is critical.
On the other side, a slow-loading website will impact how your visitors engage with your material.
As a result, your rating will suffer as a result of those negative interactions.
Even more surprising is the fact that 80% of those visitors will never return to that website.
This is detrimental to your SEO ranking since it reduces visitors to your website.
On the other hand, if your page loads quickly, visitors will return.
The popularity of your website will be recognized by Google's algorithm, which will modify your search ranking appropriately.
As a result, optimizing both your page performance and server response time is critical.
There are free internet services available to assess the speed of your website, such as Pingdom. This will enable you to test your website from various places across the globe. If your website is operating slowly, you should look into your theme and plugins.
​
​ 2. Create high-quality content
How frequently does your website get updated?
You probably don't have a fantastic SEO ranking right now if you haven't touched it since the day you built it.
You must give visitors a reason to return to your website in order to boost its popularity and generate more traffic to it.
High-quality, current, and relevant information are required. The so-called dwell time is another aspect that affects your SEO ranking. This refers to the amount of time visitors spend on your site per visit.
If you have new, intriguing, or newsworthy content on your website, it will keep people on your page longer and increase dwell time.
​ 3. Give your page a title that will benefit both search engines and users
The title tag, also known as the meta title, is used by search engines to determine what the page is about. Because your title tag is also the blue link that everyone sees on a search engine results page, be sure it contains the keywords people are looking for. This title is distinct from the bold heading that everyone sees on your page, which is usually the heading tag explained in the following step. As a consequence, you may create one title for the search engine results page (SERP) and another heading for your webpage if it helps you obtain more hits.
​ 4. Google Analytics and Google Search Console should be installed
It's a good idea to install and utilize these website tools before you start. It's critical to keep track of your development and recent accomplishments. To boost visitors, examine every area of your website.
Features of Google Analytics
Google Analytics is a free web analytics program.
Automatic collection of data – Google Analytics has a feature that reduces the work that is required to put Google Analytics data into Google Docs, Sites or Spreadsheets.
Create customized reports – in Google Analytics, you may pick from a variety of pre-built reports or create your own custom report using the drag-and-drop interface.
Ease of interaction with various systems and tools – Another noteworthy aspect of Google Analytics is its ease of integration with other tools and platforms.
Google Analytics, like all other Google services, has a simple and easy-to-use interface.
It not only works well on the PC, but it also works well on smartphones and tablets thanks to its Google Play Store app.
The ability to track internal site searches – With a little modification, Google Analytics allows you to track internal site searches.
Internal site search gives you a better idea of what your visitors are looking for on your site. With these insights, you may make the required modifications or enhancements to optimize your website's performance.
​ Google search console
The Google Search Console (previously known as Google Webmaster Tools) is a collection of Google SEO tools and reports. It gives you complete control over your website's data and setup, as well as a range of visitor analytics. Google Search Console provides you with immediate information about how Google views your website. Check your website for any discovered problems, broken pages, site indexing, and so on. Furthermore, this is where you will receive direct notifications from Google regarding any concerns with your website or measures taken against it.
You should start using the Google search console because:
it's easy to install and setup
track your SEO performance
clicks and Impressions from Google
click through rates from Results pages
Improve SEO
Learn what keywords need optimizing
Track performance from other content and Google properties: Google images, video, news, manage sitemaps
Manage sitemaps
Manage website coverage on Google
Remove pages from indexing
Track website performance – loading speeds and mobile usability
Export data to CSV for more in-depth analysis
​ 5. Use internal links to connect to other pages
You'll frequently find yourself referring to other topics that you've already written when creating content for the page. Selecting a sentence and adding a hyperlink to the blog post or page you're addressing is known as internal linking. These links will encourage some readers to go through and read your other sites, but they will also be crawled by search engines. Anchor text refers to the terms that you hyperlink. This provides context to the user and search engines about the website you link to, therefore it's critical to utilize relevant keywords in the hyperlink.
​ 6. Page speed and mobile-friendly design
It's no secret that mobile visitors are increasingly visiting your website. Check to see if your website is mobile-friendly. Optimize graphics, code, and content to ensure that each page loads quickly. Slow websites will lose visitors, and search engines will notice. This is why having a quick website can help you rank higher in search engines. When it comes to how to make your website rank, you need outstanding content, but website design and development are also important.
​ Conclusion
Search engine optimization isn't just a trend that will fade away in the near future.
It's something your website should focus on right now, as well as in the future. You can improve SEO on your site and start ranking higher on Google by utilizing tools to look at key aspects that affect it, such as loading speed, content problems, meta tags, linking, and crawl-ability.