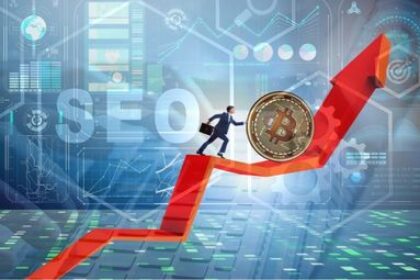 Search engine optimization (SEO) can help businesses in the Blockchain and Cryptocurrency industries gain new clients and develop their operations.
The blockchain and cryptocurrency sectors are expanding at a tremendous speed. Search engine optimization (SEO) can help business owners in this industry by increasing their website's organic search visibility and traffic volumes. This leads to a higher return on investment (ROI).
SEO is one of the most powerful and successful types of marketing available to cryptocurrency companies, but it can be intimidating for newbies to the area. Businesses who are willing to invest the necessary time and resources can easily increase their search engine results by executing SEO correctly.
Considering that the current way of advertising cryptocurrency websites has obvious limitations, blockchain and crypto firms must invest in SEO. A well-executed SEO strategy may propel your cryptocurrency to the top of SERP and boost organic SEO traffic for cryptocurrency-related keywords and phrases. A high-quality traffic source provides high-quality leads and attracts more customers, thus increasing the profits of your cryptocurrency company.
On-site cryptocurrency SEO
On-site SEO is critical for gaining high search engine rankings for your website. This involves determining the keywords that will bring in new customers as well as carefully optimizing the website to its best potential.
Off-site cryptocurrency SEO
Off-site SEO for your website is an important component that many businesses ignore when establishing their SEO strategies. Off-site SEO is mostly focused on maintaining an active social media presence, establishing hyperlinks with other websites, and creating new content.
Keyword Analysis
Making a solid understanding of your customer and the combination of words they would likely use to locate your business can be an easy initial step in developing a business SEO plan. Perhaps, there are keyword research tools available to help you identify the most appropriate keywords to include in the text of your website.
Technical Improvements
The performance and code of your website are the other most important aspects of online optimization. Google has released a new website performance assessment tool that allows you to evaluate how well your website performs on Google's official scale. To be effective, your website must also be mobile-friendly.
While keeping bugs out of your website's code is crucial, focusing on removing them can help your search engine ranking both directly and indirectly. Giving your users a better user experience can help decrease the number of users abandoning your website, which can help you increase your page rank.
Link building for cryptocurrency
Link building is useful in a bitcoin market afflicted by fraudulent 'get-rich-quick' schemes, as well as other markets because it enhances reliability and authority, both of which are essential criteria in search engine ranking. Getting other websites to link back to yours is a more traditional SEO approach in digital marketing.
Because it takes time, many people consider it a time-consuming aspect of an SEO strategy. To begin with, not all links are created equal: a link from a high-authority site, for example, has a greater influence than a link from a brand-new website. Second, to receive referral traffic, you must cultivate partnerships with other websites, influencers, companies, and bloggers, among others.
The most effective way to establish a good backlink profile is to start by creating high-quality content that others want to share. A professional crypto marketing agency can help you with this SEO strategy since they have the resources to discover which platforms generate the greatest crypto SEO ranking outcomes.
Relevant content recommendations, in addition to backlinking, are the foundations of an offsite optimization plan. Visitors will not only see your website and brand more frequently as a consequence of the recommendations from other websites, but Google will also reward your page with a higher rating.
Last but not least
Keyword research, link building, technical improvements, and on and off-page SEO are just a few of the crypto SEO strategies that will boost your sales and position you as an authority in your industry.
Keep up the good work and be patient in achieving quality traffic and revenue growth!